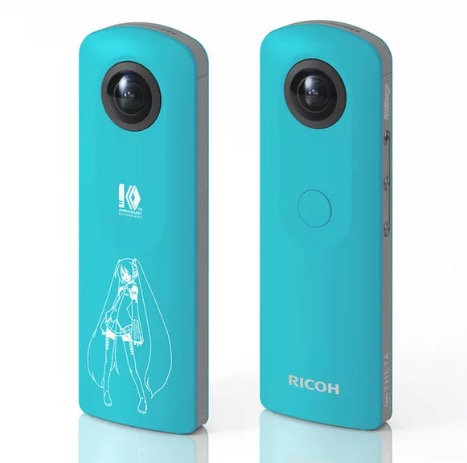 A new Ricoh Theta SC Hatsune Miku special edition camera was announced in Japan – here is the Google translated press release (read more about Hatsune Miku):
RICOH ANNOUNCES AVAILABILITY OF RICOH THETA SC HATSUNE MIKU 360-DEGREE CAMERA AND APP
Limited-edition camera commemorates 10th anniversary of Japanese vocaloid pop star
WEST CALDWELL, N.J., Sept. 26, 2017 /PRNewswire/ — Ricoh Imaging Americas Corporation today announced the North American availability of a special, Hatsune Miku version of the Ricoh Theta SC camera. This limited-edition, 360-degree camera package was created in collaboration with Hatsune Miku developer Crypton Future Media to commemorate the 10th anniversary of its popular, singing digital avatar. The package includes a Ricoh Theta SC camera with graphics of the Hatsune Miku character by original illustrator KEI on a specially-colored camera body, as well as access to a smartphone application that enables users to integrate the Hatsune Miku character into their 360-degree images
Hatsune Miku is an extremely popular digital persona voiced by a singing synthesizer application, with a loyal following in Japan and around the world.
The Ricoh Theta SC Type Hatsune Miku, which incorporates the same tech specs as the regular Theta SC version, features an illustration of Hatsune Miku on a blue-green-colored camera body—her signature color scheme—as well as a pink-illuminated power button. When the shutter button is pressed to capture a 360-degree image, the camera emits a custom Hatsune Miku sound, developed by Crypton Future Media. With the dedicated Ricoh Theta Type Hatsune Miku application for iOS and Android devices, users can overlay a three-dimensional image of Hatsune Miku on their 360-degree photos. The app includes 55 different poses, including Snow Miku, a winter character whose outfits are determined by annual design competitions.
The Ricoh Theta Hatsune Miku exclusive editing application can only be used with this Theta model.
The Ricoh Theta SC Type Hatsune Miku package includes a dog-tag key holder printed with the camera serial number (up to 3,939), and blue-green colored 100-percent wool case by Japanese artisan crafts company, Abitax. Both the dog-tag key holder and packaging feature an exclusive illustration of Hatsune Miku created by well-known Japanese artist, fuzichoco.
Additional information about the camera can be found at http://miku.ricoh/en/.