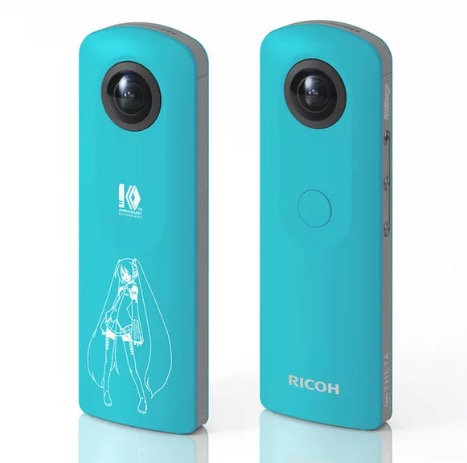 A new Ricoh Theta SC Hatsune Miku special edition camera was announced in Japan – here is the Google translated press release (read more about Hatsune Miku):
Ricoh announced the release a collaboration model 360-degree camera "RICOH THETA SC  Type HATSUNE MIKU" for a limited time in sales on orders system, to celebrate the 10th anniversary of "Hatsune Miku".

The "RICOH THETA SC  Type HATSUNE MIKU" is based on "RICOH THETA SC" (released in October 2016), and in addition to the camera being a special version with an official "Hatsune Miku" illustration which is specially drawn by the illustrator KEI on a blue green body, the theme color for Miku, it has been elaborated in details by adopting the shutter sounds exclusive for this model. Images shot in 360-degrees can also be imported into the dedicated 360-degree image editing application "RICOH THETA Type HATSUNE MIKU" so that you can enjoy 360-degree real image overlayed with "Hatsune Miku" 3D model. In addition, this product will include special goods in the form of a "dog tag key holder" (printed with serial number up to the first 3,939 units) and a exclusive color "ABITAX special case" in an exclusively designed decorated box. The dog tag key holder and the decorated box come with the special illustration by the illustrator fuzichoco, which is only available with this product, making this a special package.

The product can be ordered from the special website, starting from Friday, September 1.

At the Makuhari Messe (Mihama-ku Chiba city, Chiba) from September 1st to 3rd, we will also be showcasing the product at a Ricoh booth during the "Hatsune Miku Magical Mirai 2017" exhibition event, where you can experience the creative culture of "Hatsune Miku". At this event, there will be a special offer of 117 units (39 units per day for 3 days).