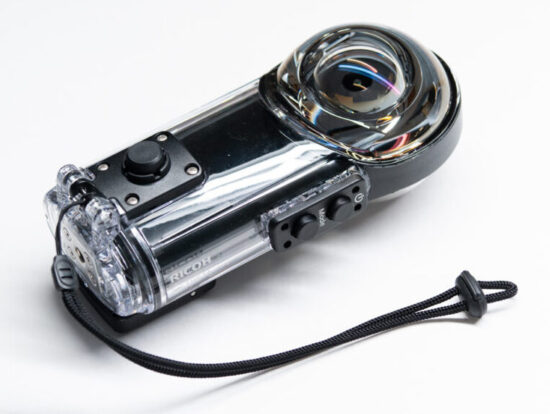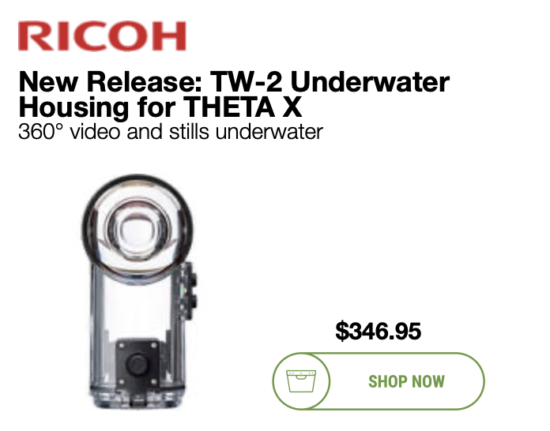 Ricoh released a new TW-2 underwater housing for THETA X cameras where you can record 360° videos and stills underwater (it replaces the previous TW-1 model):
Main specifications:
Waterproof performance: Up to 40 m from the water surface (within 60 minutes) (equivalent to JIS Protection Grade 8/IPX8)
Waterproof mechanism: O-ring and buckle
Tripod screw hole: Metal
External dimensions: Approx. 162 × 77.5 × 68 mm
Weight: Approx. 230 g
Included items: User guide, Strap, Lens cover, Moisture absorbent sheet, Silicone grease, Scratch prevention sheet, Reflection prevention sheets A and B
Compatible model: RICOH THETA X
Main features:
 The waterproof mechanism consists of an O-ring and buckle while the housing has a metal tripod screw hole to allow you to fully enjoy shooting while diving underwater with peace of mind.
 The housing design has been improved to reduce scratches on the lens section by molding the lens section with a harder acrylic resin than was used on the previous product and applying a hard coating to the surface of the lens section. The housing also includes a dedicated lens cover that protects and wraps around the lenses.
The shape of the housing body was designed to reduce the amount the camera itself appears in the shot images. Anti-reflective (AR) coating has been applied to the surface of the lens section to reduce reflections. Two types of reflection prevention sheets are provided to prevent light reflecting off the camera and into the shot images. All of these factors and more have gone into creating the finer details of this housing so that you can shoot beautiful 360° images underwater.
The housing provides excellent usability, enabling you to turn the camera power on and off, switch the shooting mode for still images and videos, and operate the shutter button with the camera inside the housing even while underwater. In addition to this usability, the expandability of being able to attach various types of camera accessories using the tripod screw hole is also the appeal of this housing.
Additional information can be found here.
Ricoh announced a new buoyancy compensator and firmware update for Theta 360 cameras