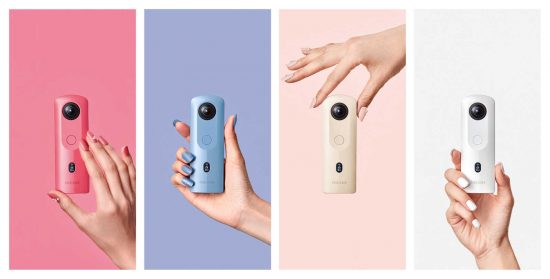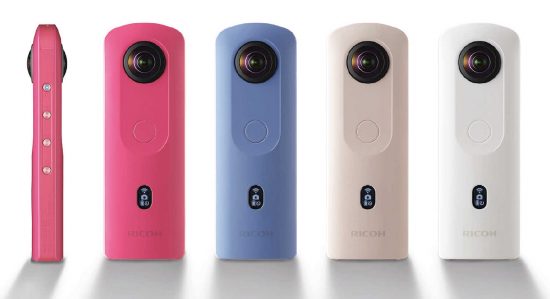 The previously rumored Ricoh Theta SC2 4K 360 spherical camera is now officially announced (pre-orders are now open). The new features are:
4K Video
The THETA SC2 is capable of recording 360° 4K video thanks to its use of the same high-speed image sensors that the advanced THETA V model has. Additionally, a supporting image processing engine allows for real-time internal stitching of the 4K video. Moreover, shake correction helps stabilize the 4K image. Up to 3-minute clips of 4K video can be recorded at a time at real-time 30 fps to the internal 14GB of memory.
Face Mode
Faces are detected and centered in the image—if they're located in a high position in the image frame or are slanted in some way, the THETA SC2 corrects them and brings them to the center
Exposure compensation and noise reduction brighten faces so the skin looks brighter and better
Images are processed to smooth skin regardless of whether or not faces are successfully detected
Night View
This mode combines noise reduction with dynamic range correction and face detection in order to capture shots with low image noise—this feature is intended for use with a tripod
This preset independently controls automatic exposure (AE) and automatic white balance (AWB) for the front and rear lenses in scenes with extreme differences in contrast
Highlight priority automatic exposure in dark scenes captures main subjects as best a possible even when they are too brightly lit
Lens-by-Lens Exposure Mode
The images captured by the front and rear lenses are placed beside each other for a side-by-side display
Underwater Mode
In this mode, the white balance settings are specifically designed for underwater shooting in depths of 16 to 33′, in order to compensate for how colors are capture underwater
HDR Algorithm Changes
Improvements to the HDR algorithm highly minimized and even removes chromatic aberration and fringing, as well as unnatural effects normally caused by color saturation
Contrast is high in the highlights
Processing time is 9.5 seconds, a huge improvement over the 23-second time of the predecessor SC model
Three images are composited in the THETA SC2, whereas the predecessor SC model used four images; the result of the improvement is a narrower dynamic range in the highlights
High-speed data transfer that is approximately 4x faster than that of the predecessor THETA SC model
| | |
| --- | --- |
| Stitching Resolution | 4K (Video) |
| Internal/External Stitching | Internal Stitching |
| Supported Spherical Projection Types | Equirectangular |
| Still Image Resolution | : 5376 x 2688 |
| Number of Lenses | 2 |
| Sensor | 1-Chip 1/2.3″ CMOS |
| Sensor Resolution | 12 MP |
| Maximum Aperture | f/2 |
| Built-In Mic | Yes |
| Wi-Fi | Yes |
| Tripod Mount | 1/4″ – 20 |
| Dimensions (W x H x D) | 5.2 x 1.8 x 0.9″ / 13.1 x 4.5 x 2.3 cm |
| Weight | 3.67 oz / 104 g |
Additional information available here.