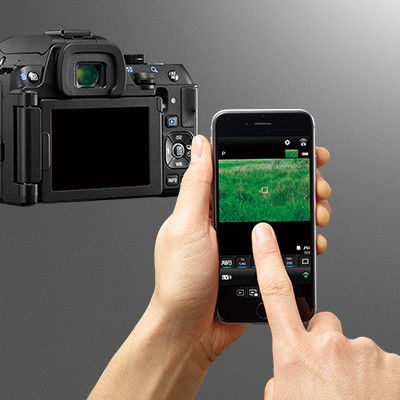 Ricoh will announce a new Image Sync version 2.0.0 at the end of September – maybe this is linked to an upcoming camera?
Fully updated version (Ver. 2.0.0) of Image Sync wireless LAN application will be released
RICOH IMAGING COMPANY, LTD. is pleased to announce the release of Image Sync Ver. 2.0.0, a fully updated version of the application dedicated to our digital cameras.
Updated functions of Image Sync Ver. 2.0.0
Addition of horizontal mode:
This mode allows the user to position an external terminal horizontally in remote shooting mode and capture Live-view images larger than those captured by the conventional vertical mode (note: the terminal must provide horizontal/vertical display switching). Also, pressing the INFO button on the application menu provides a full-screen Live-view image on the terminal, so the user can check the image composition on the screen larger than the LCD monitor on the camera's back panel.
Improved user interface:
We have made a thorough review of the layout and icons used on the menu in order to facilitate easier access to various functions and allow for intuitive operation.
The updated version displays a progress bar on each transferred image, allowing the user to more accurately monitor the progress of image transfer. It also allows for midway cancellation of image transfer. In addition, the user can now separate images stored on the camera between transferred and non-transferred ones on the display, preventing unnecessary, repeated transfer of the same image.
Compatible cameras:
PENTAX K-1 Mark II, PENTAX K-1, PENTAX KP, PENTAX K-70, PENTAX K-S2, RICOH WG-M2, GR II
Application update:
Application name: Image Sync Ver. 2.0.0 (Android and iOS versions)
Release date: August 30, 2018 (for Android)
End of September, 2018 (for iOS)
How to download: Visit Google Play™ or App Store for updates.
Cost: Free
Supporting OS:
| | Android | iOS |
| --- | --- | --- |
| Image Sync Ver.2.0.0 | 4.4-8.0 | 10-11 |