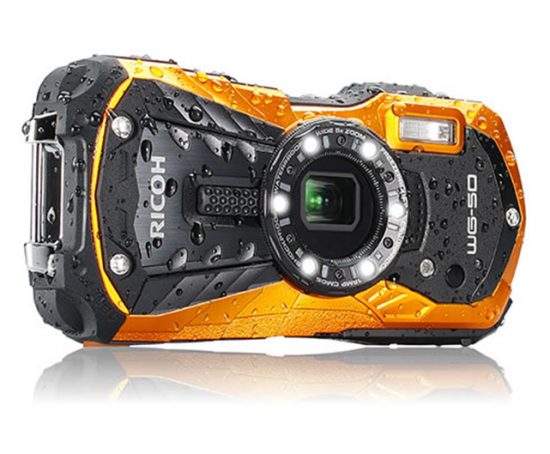 The previously rumored Ricoh WG-50 waterproof and shockproof compact camera is now officially announced (available in black and orange). The US price is $276.95.  The full press release can be found here.
Here are some of the features of the new camera:
RICOH's WG-30W is adventure proof and suitable for almost any environment.
Waterproof to 39 feet – perfect for use when submerged.
Shockproof, ruggedized design protects from drops up to 5 feet.
Crushproof construction withstands weights up to 220 LBF (pound-force).
Coldproof to sub-freezing temps of minus 10 degrees C (14°F).
Coldproof to sub-freezing temps of minus 10 degrees C (14°F).
Dustproof design protects the camera from dry, dusty environments.
16 megapixel backlit CMOS sensor offers plenty of image detail.
Wide angle 5X internal optical zoom lens (28-140mm equivalent) provides versatile capture of subjects near or far.
Large 2.7 inch LCD features 230,000 dots and wide angle viewingwith anti-reflective coating.
Enhanced Digital Microscope mode uses 6 macro LEDs for perfect focus and smooth, even lighting. Instant Illmination Enhance feature.
Capture video in widescreen 1080p HD at 30 frames per second.
Wi-Fi connection to support remote operation using smartphones.
Pixel Track and Digital Shake Reduction ensure sharp, blur-free images.
Capture perfect portraits with fast Face Detection technology, Smile Capture, and Blink Detection.
Take pictures remotely using an optional PENTAX infrared remote control.
Additional information available at ricoh-imaging.com.