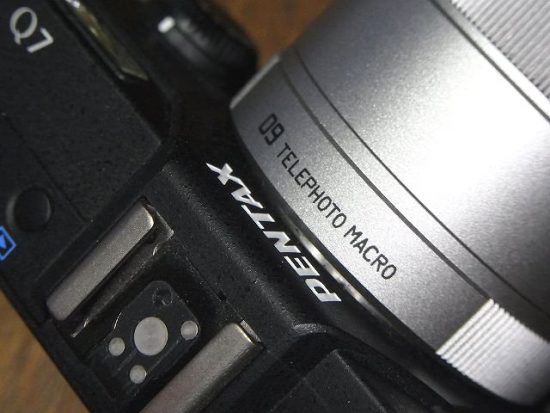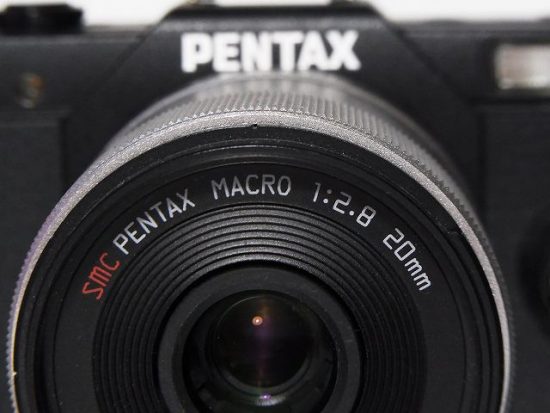 This is an update on the Pentax Q 09 telephoto macro lens story from last month:
The source is Kimio Tanaka's blog, summarized by PentaxForums member JPT:
He apologizes for not having followed up his posts with pictures sooner.
Some people suggested Ricoh must have got angry with him, but nothing was said to him at all.
The name of the lens is smc PENTAX MACRO 20mmf /2.8, and that is the inscription on the lens.
He doesn't know much detail about the technical specs of the lens and his comments are just from his impression of using the lens.
It's a 20mm lens, which works out equivalent to a 92mm macro in 35mm film equivalent terms when mounted on the Q-S1 or Q7.
Working distance is 8cm.
Length is 50mm; weight is 70g. It's lighter than it looks.
AF is fast.
It's normal for prototype lenses from all makers to be very good, and this lens is good as you would expect.
The only slight weakness he has perceived is a tendency to flare a little.
And some info from Mistral75:
The lens is a macro lens in the sense that its maximum magnification is 1:1 "in terms of 35mm format".
At the minimum focusing distance, which is around 14 to 15cm, Tanaka says the coverage is around 25 x 36mm. Hence the actual maximum magnification is around 1/4.6 or 0.22x.
Ricoh is still thinking about what to do with the lens, so stay tuned for more.
Test chart, taken at F2.8 and ISO 160 can be found here.
Picture source: Twitter
Update: two new pictures of the lens published by Kimio Tanaka on Twitter:
本日のブログ。試作品のTELEPHOTO MACROレンズの話、その2。レンズがここまで仕上がってるんだから「開発を一時中断」から、ぜひ「開発を再開」に向けて走り出してほしい。

PENTAX Q用の試作品マクロレンズ ━━ その2 https://t.co/huZwooYwkh pic.twitter.com/6Sxtncjkea

— 田中希美男 (@thisistanaka) May 15, 2017
One more picture taken with the lens can be found here (see also this post).