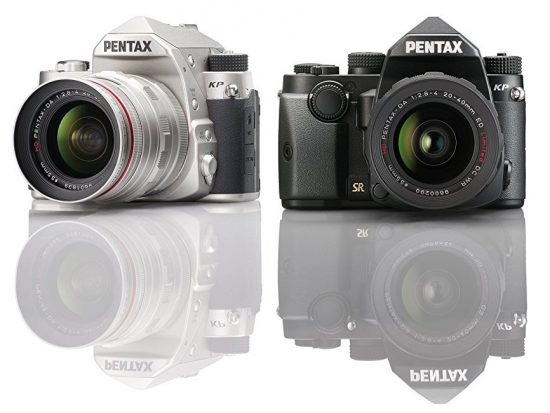 The Pentax KP DSLR camera is now officially announced.
Pre-orders:
Specifications:
24.3 effective megapixels
APS-C AA filter-less CMOS sensor
PRIME IV engine w/ accelerator unit
Super-high sensitivity ISO 819200
Pixel Shift Resolution System w/ motion correction function
AA Filter Simulator: Moiré reduction using "SR" unit
Convenient compact size
SRII fi ve-axis Shake Reduction System
Approx. 100% FOV optical viewfi nder
(0.95x magnifi cation)
SAFOX11 27-point Autofocus
1/6000 high-speed shutter
1/24000 electronic shutter
Tiltable LCD monitor
Built-in Wi-Fi for use with Image Sync app
Full HD movie recording
Intuitive design
Exchangeable Grip (3 sizes available)
Smart Function Dial
Customizable Info Screen control
panel, function buttons, user
modes and presets
Dustproof, weather-resistant body
-10°C cold-resistant construction
Additional coverage:
Videos:
Press release:
Ricoh Unveils Ultra-Compact PENTAX KP, a Weatherproof DSLR That Provides Outdoor Photographers with New Standard for Quality, Customization and Ease of Use
Heir to K-3 legacy, Slim-Body Camera Incorporates New Features and Controls Optimized to Deliver Outstanding Images, Even in the Most Challenging Conditions
First PENTAX APS-C Camera to offer Shake Reduction II
WEST CALDWELL, NJ, January 25, 2017—Ricoh Imaging Americas Corporation today announced the PENTAX KP, an ultra-compact and highly portable DSLR with features and controls that facilitate capturing outstanding images, even in the most demanding conditions. The PENTAX KP packs many of the advanced capabilities of the award-winning PENTAX K-3 series into a modern, slim body design that lends itself to applications from casual snapshots to serious outdoor photography while mountain climbing or trekking. The PENTAX KP also adds a new generation of innovations including a new, highly sensitive APS-C CMOS sensor and is the first PENTAX APS-C camera to incorporate Shake Reduction II (SR II), which features a five-axis mechanism to compensate for camera shake up to 5 steps.
The new 24-megapixel CMOS sensor enables shooting in extremely low-light conditions, with sensitivity to ISO 819200, making the camera ideal for night photography. The PENTAX KP features an electronic shutter option in live-view to enable high-speed shooting up to 1/24,000-second, which greatly broadens shooting capabilities when using large aperture lenses to achieve a shallow depth of field on a bright sunny day.
The PENTAX KP's compact body is the result of a complete internal re-design to produce an advanced DSLR camera with an extremely slim profile for optimal comfort and handling. The KP's rugged exterior is dustproof and weather-sealed to enable use in the most challenging outdoor conditions. The camera will perform in temperatures as low as 14 degrees F (-10 degrees C).
The PENTAX KP incorporates additional advanced technologies and ease-of-use features that have long been the hallmark of PENTAX cameras and enable them to be used comfortably and reliably in a wide range of conditions. These include:
5-Axis Shake Reduction System: The PENTAX KP is the first PENTAX APS-C DSLR to offer the newgeneration SR II system, which uses a five-axis mechanism to compensate for camera shake caused by horizontal and vertical shift (often generated in macro photography), roll (difficult to handle by lens-installed shake reduction mechanisms), as well as pitch and yaw. The SR II unit is controlled with great precision as soon as the camera's power is turned on, providing a wide compensation range—as much as five shutter steps—to further expand the limits of handheld shooting. With the addition of an optional accessory GPS module (O-GPS1 GPS unit), the PENTAX KP, simplifies astro-photography, making it possible to record stars as points of light rather than star trails during extremely long exposures.
Pixel Shift Resolution: This acclaimed PENTAX technology enables producing color-accurate still-life subjects with the highest resolving power. The technology uses the KP's in-body Shake Reduction System to move the image sensor in single-pixel increments, to capture four separate images that are subsequently combined into a single, high-definition image.
A vertical tilt LCD monitor that facilitates high- and low-angle shooting.
A grip replacement system that lets photographers choose their preference of grip based on shooting style or lens choice. In addition to the standard grip that comes with the PENTAX KP, accessory grips include medium (M) and large (L) grips (these will come packaged with KP bodies sold in North America), as well as the optional D-BG7 Battery Grip.
Control panels, button settings and dial controls that can all be customized, based on a user's preference.
"We designed the PENTAX KP to appeal to the world's most discerning outdoor photographers, who will appreciate its rich and powerful feature set and rugged, compact design, whether they are shooting a landscape on a trek in Patagonia or capturing an eclipse," said Kaz Eguchi, president, Ricoh Imaging Americas. "From Pixel Shift Resolution to our new generation of Shake Reduction, PENTAX proudly continues to lead the way in photographer-friendly innovation."
Pricing and Availability
The PENTAX KP camera will be available on February 25 for a suggested list price of $1,099.95 at www.us.ricoh-imaging.com as well as at Ricoh Imaging-authorized retail outlets throughout North America.
→ Pre-order the Pentax KP DSLR for a chance to get one free ←