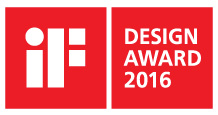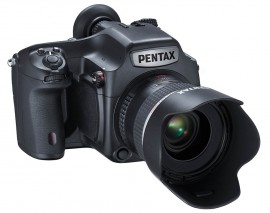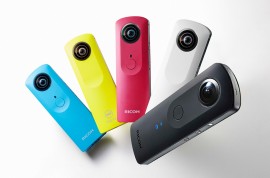 Press release:
RICOH IMAGING COMPANY, LTD. is pleased to announce that its RICOH THETA (m15)/ RICOH THETA S 360-degree spherical camera and PENTAX 645Z medium format digital SLR camera have been selected as winners at the internationally respected iF Design Awards 2016, hosted by iF International Forum Design GmbH. Details of the awards are as follows.
RICOH THETA(m15) / RICOH THETA S 360-degree Spherical Camera
A series of RICOH THETA released in 2013, with the 360-degree spherical shooting function. Lineup models are the bright/colorful entry model THETA m15, for the joy of spherical shooting for various users', and the high-end model THETA S with high functionality/ quality to extend the enjoyment. The series' exterior design is for portability, easy shooting and simplicity. THETA S is completely free of unneeded factors by unifying parts, using a hidden LED display. With soft-feel texture, made of durable materials resisting aged deterioration by in-mold molding, THETA S presents a goal of both design and functionality.
PENTAX 645Z medium format digital SLR camera
Installed with a large image sensor with approximately 51.4 effective megapixels, PENTAX 645Z is a medium format, interchangeable digital SLR camera to produce ultra-high-definition, images with sense of depth. With a dustproof and weather-resistant mechanism, magnesium alloy cover and a tempered glass display panel, the body is durable and reliable for photo enthusiasts and professionals to enjoy casual outdoor shooting.
A tilted rear LCD monitor further freedom for live-view or HD movie shooting enables PENTAX 645Z to expand usage areas.
iF Design Awards
Established in 1953, the iF Design Award is a design award presented to industrial products from all over the world that display superior design. Each year there are many applicants for the award from Germany and around the world. The winning products are selected from seven categories: "Product Design," "Communication Design", and "Packaging Design." "Service Design", "Professional concepts" and "Architecture" and "Interior architecture". Winners are highly regarded as products with a superior design that is recognized internationally. This year 5,295 products from 53 countries were entered for consideration, and after rigorous examination, 1,821 products received awards.