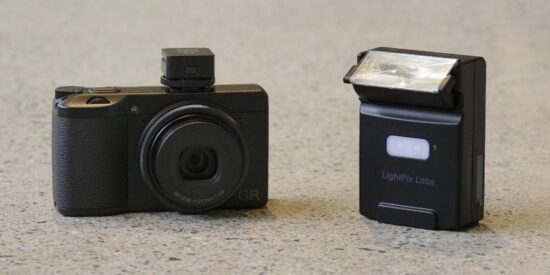 Ricoh Japan introduced a new Flash Q Q20II in matte black to match the color of GR cameras. For now, the new Flash Q Q20II matte black version is available only in Japan (Amazon Japan). The black version of the Flash Q Q20II can be purchased in the US at Amazon and B&H Photo.
Additional pictures:
Additional information:
"FlashQ Q20II" is a product of LightPix Labs in Hong Kong, but the exterior of the regular product is not painted, while "FlashQ Q20II MATTE BLACK" has a special matte black paint added. The print color is also reduced in brightness like GR gray to give it an appearance that matches GR. This is sold only at the "RICOH GR Store". (GR Blog)

"Ricoh Imaging released the LightPix Labs strobe "FlashQ Q20II Matte Black" in collaboration with the RICOH GR series on June 14th. Available only at the company's official direct sales stores (Ricoh Imaging Store, RICOH GR Store Rakuten Ichiba Store, RICOH GR Store PayPay Mall Store). The selling price is 13,032 yen including tax." (DC.Watch).