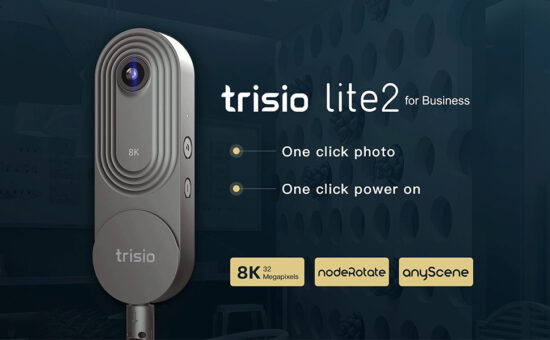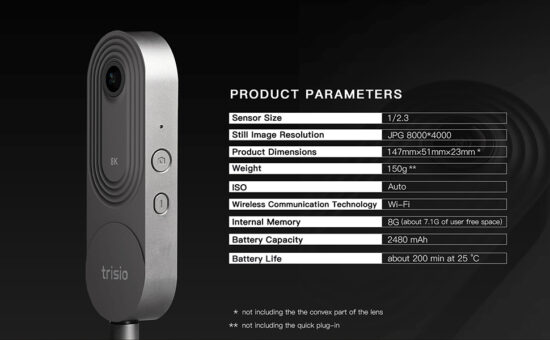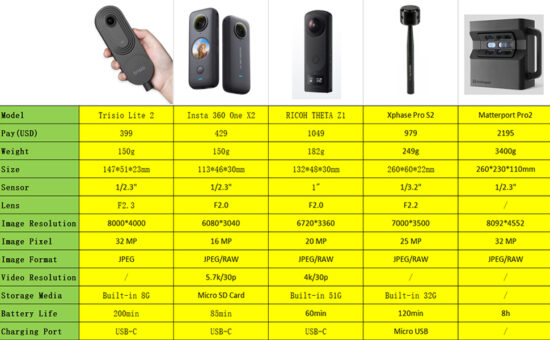 This new Trisio Lite 2 VR 360° camera costs $399:
Additional information:
[Commercial Lens & Noderotate Technology]:By using aspherical distortion-free optical lens and sophisticated CNC motor, combining with nodeRotate technology, Trisio lite 2 can precisely capture the ambient light of any complex indoor spaces. Just simply press the shutter, you can get perfect 8K 32MP high resolution images.
[Anyscene Full-scene Adaptive Imaging System]:Trisio Lite 2 is now equipped with the latest design anyScene full-scene adaptive imaging system, effectively solved the brightness suppression and darkness compensation problems. It accommodates the panoramic shooting of various scenes with high-quality visual experience.
[Built-in 8G Storge & 200 Min Battery Life]:The Trisio Lite 2 360 camera configures 8G ( about 7.1G of user free space) EMMC flash memory to store photos, and the built-in battery can offer 200 min running time.
[APP Remote Controlling for One-click Shooting & Automatic Splicing]:Using a Trisio 360 camera APP, you can remote control Trisio Lite 2 360 camera to complete a panoramic shot within the range of 20 meters.
[Lightweight & Compact Design]:The Trisio Lite 2 360 camera weights about 150g (not inclusing the quick plug-in) and has a body size of 147mmx51mmx23mm (not including the convex part of the ens); Through the quick plug-in, you can plug the Trisio Lite 2 into the tripod easily for shooting.
Technical specifications::
Sensor size: 1/2.3
Still image resolution: JPG 8000*4000
Product Dimensions: 147mm*51mm*23mm
Weight: 150g
ISO: Auto
Wireless Communication Technology: WI-FI
Internal Memory: 8G (about 7.1G of user frss space)
Battery Capacity:2480 mAh
Battery Life: about 200 min at 25°C