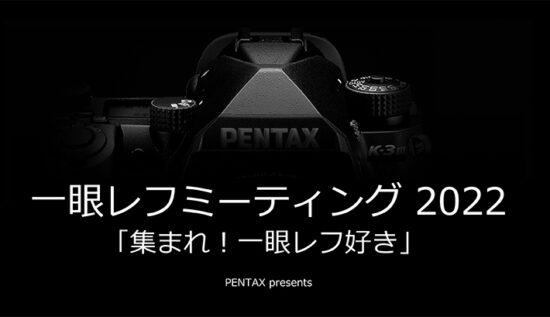 Ricoh has scheduled a Pentax SLR meeting on March 13th – here are the details:
What is a single-lens reflex meeting?
At this event, I like single-lens reflex cameras among the many attractive cameras in the world ! It is an event for those who say.
Although it is an event sponsored by PENTAX, which loves SLR cameras, we would like to delve into the appeal common to SLR cameras with all SLR cameras (including film cameras) fans. (Users from other companies are welcome)
The 1st SLR Meeting 2022 "Gather! I like SLRs" will be held online on YouTube Live.
(Advance application is required from This page to watch the Live stream.)
We sincerely look forward to the participation of many SLR camera fans.
Date: March 13, 2022 (Sun) 15: 00-17: 15 (scheduled)
* Delivery is scheduled to start 15 minutes before the start time.
Delivery method
Use YouTube Live
Only the applicant himself/herself can participate in this event. No one other than the applicant can participate
You are free to join or leave the room on the way (there is a break on the way)
Recording of delivered video is not permitted.
Event contents (planned)
Thorough talk "I like the SLR here!"
Introducing "My favorite episode" by a panelist (guest photographer).
In addition, we will also publish the aggregated results of the pre-questionnaire received from the participants.
[Reiwa version] Announcement of the latest survey results for film camera fans
We will conduct a survey on what "film camera lovers" like and announce the results.
Let me talk about PENTAX a little …
Shutter sound championship 2022: Listen and compare the shutter sounds of single-lens reflex cameras from various manufacturers. This is the No. 1 shutter sound championship where participants vote to decide which sound is the most comfortable. We will inform you of the aggregated results during the event using the questionnaire tool.
Thorough discussion "Expectations for future SLR cameras" Following the flow
Moderator: Hideto Sasaki (PCT representative of GK, former editor-in-chief of Nippon Camera) Panelists : Koichi Akagi, Takuma Kimura, Mina Daimon, Sho Niiro (photographer), and other Ricoh Imaging employees