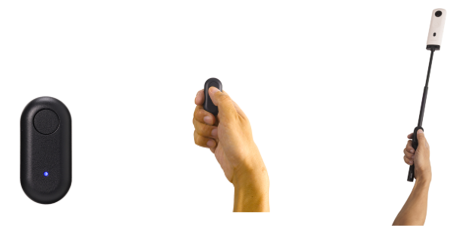 The previously rumored Ricoh Theta TR-1 Bluetooth remote control is now officially announced and available for pre-order. Here are the details:
Ricoh Company, Ltd. will release the new Bluetooth® remote control "Remote Control TR-1" as an accessory for the RICOH THETA series 360° cameras capable of capturing 360° still images and video footage in a single shot. Using this item in combination with the genuine selfie stick "RICOH THETA Stick TM-2/TM-3" (released for sale in August 2019) allows you more comfort when shooting in various situations such as performing remote shooting by pressing a single button in your hand.

Main Features of "Remote Control TR-1:
Remote shooting can be performed easily without wireless connection to a smartphone.
Attachable to the selfie stick "RICOH THETA Stick TM-2/TM-3" with the included holder for use.
A thin body with a 12 millimeters thickness.
Safely usable for shoot outdoors due to its splash-proof construction.