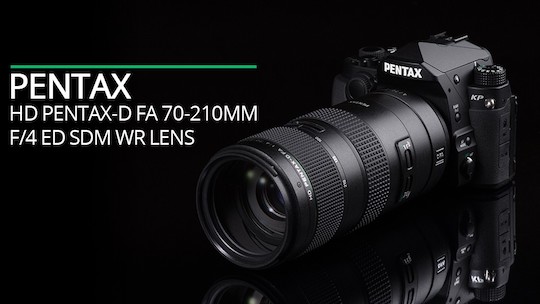 The HD PENTAX-D FA 70-210mm f/4 ED SDM WR lens is now officially announced:
Ніgh-реrfоrmаnсе tеlерhоtо zооm lеnѕ
Соmрасt аnd lіghtwеіght
Quісk-ѕhіft fосuѕ ѕуѕtеm
Реrfесt fоr ѕроrtѕ, аnіmаl аnd сlоѕе-uр рhоtоgrарhу
Тwо-ѕtер fосuѕ rаngе lіmіtеr
Міnіmіzеd АF ореrаtіоn tіmе
Nіnе-blаdе, rоund-ѕhареd dіарhrаgm
Веаutіful Воkеh wіth mіnіmіѕеd thе ѕtrеаkіng еffесt
Еlесtrоmаgnеtіс dіарhrаgm соntrоl
Ніgh-рrесіѕіоn ехроѕurе соntrоl durіng vіdео ѕhооtіng
НD Соаtіngѕ fоr еnhаnсеd іmаgеѕ
Еdgе-tо-еdgе ѕhаrрnеѕѕ
20-еlеmеnt, 14-grоuр орtісѕ, 3 ЕD glаѕѕ еlеmеntѕ аnd 2 аnоmаlоuѕ dіѕреrѕіоn еlеmеntѕ
Wеаthеr-rеѕіѕtаnt соnѕtruсtіоn
ЅР Соаtіng tо rереl ѕtаіnѕ
Вuіlt-іn ЅDМ
Focal length (Equivalent to 35mm format)
70-210mm
Equivalent to 107-322mm in 35mm format
(when attached to PENTAX APS-C size DSLR cameras)
Maximum Aperture
F4
Minimum Aperture
F32
Lens construction
20 elements in 14 groups
Angle of View (Diagonal)
34.5°-11.8°
(when attached to PENTAX 35mm full-frame SLR cameras)
23.0°-7.7°
(when attached to PENTAX APS-C size DSLR cameras)
Mount
KAF4
Minimum Focusing Distance
0.95m (3.1ft. )
Maximum Magnification
0.32x
Filter Diameter
67mm
Diaphragm Control
Electromagnetic diaphragm
Fully automatic
Number of Diaphragm Blades
9
Rounded diaphragm (F4-F9.5)
Aperture Ring
N/A
Tripod Mount
N/A
Lens Hood
PH-RBP67 (included)
Lens Cap
O-LC67 (included)
Lens Case
S100-200 (optional)
Maximum Diameter x Length
approx. 78.5mm x 175mm (approx. 3.1in. x 6.9in. )
Weight
approx. 819g / with hood approx. 859g
(approx. 28.9oz. / with hood approx. 30.3oz. )
Temperature
-10°C~40°C (14°F~104°F)
Humidity
85% or less (no condensation)
Included Accessories
Lens Hood PH-RBP67, Lens Cap O-LC67, Lens Mount Cap K
Others
HD Coating
SP (Super Protect) Coating
WR (Weather Resistant)
Quick-shift Focus System (QFS/M)
SDM (Ultrasonic Motor)
Focus Range Limiter

Ricoh announces compact, lightweight, high-performance telephoto zoom lens for use with 35mm full-frame digital SLR cameras

New HD PENTAX-D FA 70–210mm F4 ED SDM WR provides great portability in a variety of applications, from nature and scenic photography to active fieldwork

PARSIPPANY, NJ, January 22, 2020 – Ricoh Imaging Americas Corporation today announced the HD PENTAX-D FA 70–210mmF4ED SDM WR zoom lens for use with PENTAX K-mount digital SLR cameras. This high-performance telephoto zoom lens features a compact, lightweight body with weather-resistant construction for great portability in a variety of outdoor applications.

Featuring a highly portable design, this high-performance zoom lens covers the image circle of 35mm full-frame digital SLRs, and provides a focal length range of 70mm to 210mm ideal for handheld outdoor photography. A constant f/4 maximum aperture ensures consistent brightness throughout the zoom range and enables increased control over depth of field for selective focus effects. When used with an APS-C-format camera, its focal length range is extended to the equivalent of 107mm to 322mm in the 35mm format. The new lens has a minimum focusing distance of 0.95 meters and a maximum magnification of 0.32 times, providing greater macro coverage than previous models. It also features a Quick-Shift Focus System that enables an instant shift to manual-focus operation after locking a subject in focus during autofocus operation.

This lens is ideal for active field photography in a wide range of outdoor applications including scenic photography, landscape shooting with a beautiful bokeh effect in the fore- and background, close-up photography of animals and plants, and sports and wildlife photography where its outstanding portability really comes in handy.

A high-grade, multi-layer high-definition (HD) coating has been applied to the optical elements of the lens, enabling the capture of high-contrast images with edge-to-edge sharpness and minimizing flare and ghost images. A super-protective (SP) coating, highly repellent to water, grease and dirt, has also been applied to the lens' front surface, making it easy to wipe off stains or fingerprints.

Pricing and Availability

The HD PENTAX-D FA 70–210mmF4ED SDM WR will be available for sale on February 15, 2020, at www.us.ricoh-imaging.com and retail outlets nationwide for a manufacturer's suggested retail price of $1099.95.
Additional pictures: