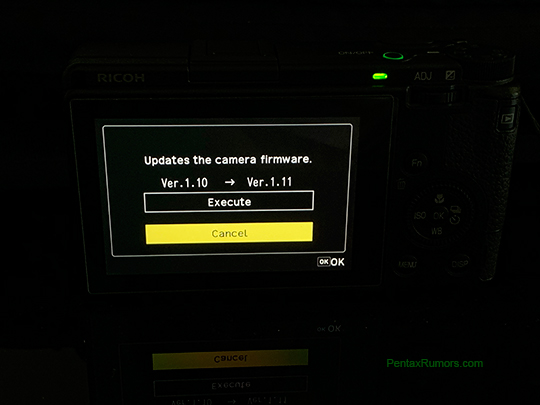 Ricoh released their second GR III firmware update version 1.11. Here is the list of changes:
Corrected — When playback movie on the camera, dropping frames occur in firmware version 1.10.
The version display in the USB device tree of Mac OS is worked with the firmware version.
Improved stability for general performance.
The new firmware can be downloaded here.
The Ricoh GR III camera is currently in stock in the US at Adorama, B&H and Amazon.
How to update Ricoh GR II firmware:
[1] Provide a formatted SD memory card for the update software.
The download file is self-extracting. The following file is extracted.
fwdc239b.bin: This is the updated firmware
Copy the above Firmware file [fwdc239b.bin] to the root directory in the SD card.
[2] Insert the battery into the camera and confirm the battery is full by battery level indicator then turn the camera off.
[3] Insert the update SD card (prepared in step 1) into the camera and close card cover.
[4] Turn the camera power on while pressing [Menu] button.
[5] [Update the camera firmware] is displayed
Select [Execute] by 4-way button and press [OK] button.
[6] The firmware update will start and [Updating] is displayed.
*Do not turn OFF the camera while updating.
[7] When update is completed, "Update completed" will be displayed
[8] Turn OFF the camera and remove the SD card from camera.
*Confirm the version of firmware with above [How to check version].
[Caution]
When updating is finished, the update SD card still contains the Firmware file.
If you want to use this card to take pictures, format the card by the camera to delete firmware file first.
---