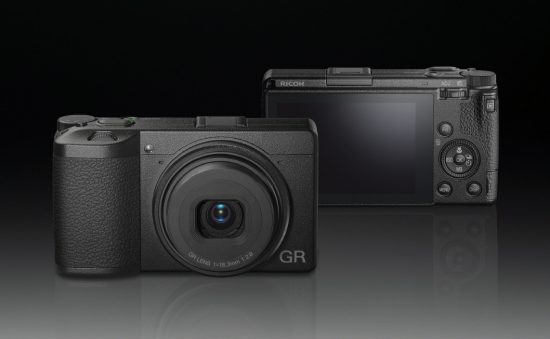 The Ricoh GR III camera is now officially announced.
Ricoh GR III pre-order links: Adorama | B&H | WEX | Park Camera | Amazon (see also the new GR III accessories).
Lens MTF chart: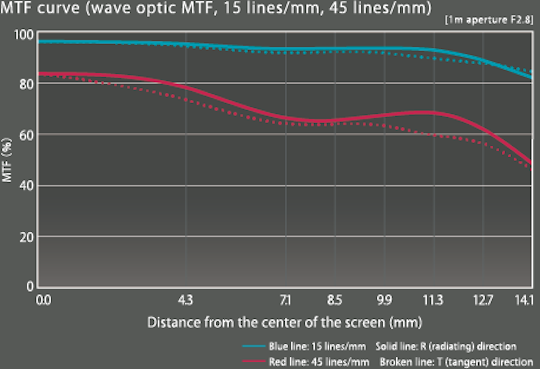 Technical specifications, press release and additional pictures:
| | |
| --- | --- |
| Effective Pixels | Approx. 24.24 megapixels |
| Sensitivity | ISO100~102400: Auto (ISO Auto Lower/Upper Limit and Minimum Shutter Speed can be set), Manual: |
| Focal Length | 18.3mm (Approx. 28mm in 35mm equivalent focal length), F2.8~F16 |
| Image Stabilization | Sensor-shift shake reduction (SR)(3-axis) |
| Lens Construction(group/elements) | 6 elements in 4 groups (2 aspherical lens elements) |
| Weight (g) | Approx. 257g (Included dedicated battery and SD memory card), Approx. 227g (Body only) |
| Focus Range | Normal: Approx. 0.1m~∞, Macro Mode: Approx. 0.06m~0.12m |
| Face Detection | ON, Use only in Auto-area, OFF |
| Image Sensor | Type: Primary color filter CMOS. Size: 23.5mm x 15.6mm |
| Type | Hybrid AF (Image plane phase-matching and Contrast detection) |
| Focus modes | Auto-area AF, Zone AF, Select AF, Pinpoint AF, Tracking AF, Continuous AF, MF, Snap, ∞ |
| White Balance | Auto White Balance, Multi Auto White Balance, Daylight, Shade, Cloudy, Fl. – Daylight Color, Fl. – Daylight White, Fl. – Cool White, Fl. – Warm White, Tungsten, CTE, Manual White Balance, Color Temperature |
| Drive Modes | Single Frame Shooting, Continuous Shooting, Bracketing, Multi-exposure, Interval Shooting, Interval Composite |
| Metering Modes | Multi-segment, Center-weighted, Spot, Highlight-weighted |
| Exposure Modes | Program AE, Aperture Priority AE, Shutter Priority AE, Manual Exposure |
| EV Compensation | Still Image: ±5EV, 1/3EV steps, Movie: ±2EV, 1/3EV steps |
| ND Filter (2EV) | AUTO, ON, OFF |
| Dimensions | Approx.. 109.4(W)×61.9(H)×33.2(D)mm (excluding protrusions) |
| Language | English, French, Germany, Spanish, Portuguese, Italy, Dutch, Danish, Swedish, Finnish, Polish, Czech, Hungarian, Turkey, Greek, Russian, Thai, Korean, Simplified Chinese, Traditional Chinese, Japanese |
| Included Accessories | Rechargeable Battery DB-110, USB Power Adapter, Power Plug, USB Cable I-USB166, Handstrap |
| AA Filter Simulator | Moiré reduction using SR unit (Off, Low, High) |
| Fine Adjustment | Adjustable ±14 steps on A-B axis or G-M axis |
| Still | File Format: RAW (DNG) 14bit, JPEG (Exif 2.3), DCF2.0 compliant Color Space: sRGB, AdobeRGB |
| Movie | File Format: MPEG4 AVC/H.264 (MOV), Recorded Pixels: Full HD (1920×1080, 60p/30p/24p), Sound: Built-in stereo microphone, Recording Time: Up to 25 minutes or 4GB; automatically stops recording if the internal temperature of the camera becomes high. |
| Shutter speed | 1/4000 sec. – 30 sec. (Limit by aperture setting F2.8: 1/2500 sec, F5.6 or greater: 1/4000 sec.), Timed Exposure (10sec. – 20min.), Bulb, Time |
| Self-timer | 10 sec., 2 sec., OFF |
| USB Type-C™ | Battery Recharge/Power Supply (Optional AC Adapter required), Data Transfer: MTP, Video output: DisplayPort over USB-C (DisplayPort Alternative Mode) |
| Hotshoe | Compatible with P-TTL Auto Flash, Flash Mode: Flash On, Flash On+Red-eye, Slow-speed Sync, Slow Sync+Red-eye, Flash Exposure Compensation: -2.0 -+1.0 |
| Lens adapter pin | Available |
| AC adapter available | AC Adapter Kit K-AC166(Optional) |
| Battery Life | Number of recordable images: Approx. 200 images, * With a fully-charged Rechargeable Lithium-ion Battery under the temperature at 23°C. Tested in compliance with CIPA standard. Actual results may vary depending on the shooting condition. |
| Battery Life | Playback time: Approx. 180 minutes * The playback time is a guide based on RICOH's measurement method . The actual number differs according to usage conditions. |
| Battery Type | Rechargeable Battery DB-110 |
| Type | 3.0 inch TFT color LCD (aspect ratio 3:2)、Approx. 1037K dots, Wide viewing angle, Air-gapless tempered glass |
| Touch Screen | Capacitive sensing method |
| Wireless Standards | IEEE 802.11b/g/n (HT20) (Wireless LAN standard protocol) |
| Wireless Frequency | 2412MHz~2462MHz (1ch~11ch) |
| Wireless Security Authentication | Authentication: WPA2, Encryption: AES |
| Dust Removal | Image sensor cleaning using ultrasonic vibrations |
| Storage Medium | Internal Memory (Approx. 2GB), SD/SDHC/SDXC Memory Card (Conforms to UHS-I standards) |
| Adjustment | Brightness, Saturation, Blue/Amber, Green/Magenta, Outdoor View Setting: ±2 Steps |
| Crop | 35mm, 50mm, OFF |
| Image Control | * This parameter will be available via a firmware update. |
| Image Control | Adjust parameters: Saturation, Hue, High/Low Key Adjustment, Contrast, Contrast (Highlight), Contrast, Sharpness, Shading, Clarity, Toning, Filter Effect, Grain Effect*, HDR Tone Level (Adjust parameter varies depending on the selected image setting |
| Image Control | Standard, Vivid, Monotone, Soft Monotone, Hard Monotone, Hi-Contrast B&W, Positive Film, Bleach Bypass, Retro, HDR Tone, Custom1, Custom2 |
| Dynamic Range Correction | Highlight Correction, Shadow Correction |
| Noise Reduction | Slow Shutter Speed Noise Reduction, High-ISO Noise Reduction |
| Display | Display magnification (4x, 16x), Grid display (4×4 Grid, 3×3 Grid), Histogram, Bright area warning, Electronic Level |
| Playback View | Single frame, Multi-image (20, 48 frames), Display magnification (up to 16x, 100% view and Quick Zoom view available) |
| Base Parameter Adjustment | Brightness, Saturation, Hue, Contrast, Sharpness |
| RAW Development | Aspect Ratio, JPEG Recorded Pixels, Color Space, White Balance, Image Control, Peripheral Illumination Correction, Sensitivity, High-ISO Noise Reduction, Shadow Correction |
| Edit | Resize, Cropping, Levels Adjustment, White Balance Adjustment, Color Moiré Correction, Movie Edit (Cut), Movie Edit (Divide) |
| Frequency (Center Frequency) | 2402MHz~2480MHz (CH0~CH39) |
| Standards | Bluetooth® v4.2 BLE(Bluetooth Low Energy) |
Ricoh launches RICOH GR III high-end, compact digital camera
Newest model in the popular RICOH GR series delivers exceptional image quality in a smaller, lightweight body, making it ideal for street photography
WEST CALDWELL, NJ, February 21, 2019 – Ricoh Imaging Americas Corporation today announced the launch of the highly anticipated RICOH GR III camera. The new camera is the latest model in the RICOH GR series, a lineup of high-end digital cameras providing exceptional image quality in a compact, lightweight body ideal for street photography, travel and capturing candid images.
The RICOH GR III features a newly designed lens, image sensor and imaging engine that further upgrade image quality, enhance functionality and improve usability. The 18.3mm F2.8 lens delivers exceptional imaging performance with a slim design, consisting of six optical elements in four groups, while retaining the 28mm angle of view. It produces the clearest, sharpest images in GR-series history while reducing distortion and chromatic aberration. It also comes equipped with a macro shooting capability with a minimum focusing distance of six centimeters.
In keeping with the GR-series concept of packaging high image quality in a compact design, the RICOH GR III camera body is smaller than its predecessor, and is equipped with a large APS-C-size CMOS image sensor with approximately 24.24 effective megapixels to produce high-resolution images. Its short start-up time of approximately 0.8 seconds allows for quick, responsive shooting. The camera's high-definition LCD monitor features touchscreen operation, offering intuitive control of various camera functions right on the screen.
The camera also features a high-speed hybrid autofocus system, built-in shake reduction, in- camera image finishing options, USB Type-CTM, Bluetooth and wireless LAN connectivity options. An accessory wide-angle conversion lens designed exclusively for use with the RICOH GR III is also available. The GW-4 Wide Conversion Lens expands the angle of view to 21mm ultra-wide angle.
"The Ricoh GR III is the ultimate street camera," said William Hereford, a Brooklyn-based pro photographer, who has been shooting with GR series cameras for years. "The image quality and ease of use are equally amazing. I literally don't leave my house without this camera. The GR III fits perfectly both in my hand and my pocket, so it is always available to capture a moment."
Hereford says that the image quality is so great, that photos taken with his GR cameras have the potential to be used in national ad campaigns and magazine articles.
Designed to be the ultimate street photography camera, the RICOH GR III is a totally new breed of GR camera that will give the user new and different creative possibilities.
Pricing and Availability
The RICOH GR III will be shipping in March 2019 and will be available at www.us.ricoh- imaging.com and retail outlets nationwide. Price is $899.95 for the camera, $249.95 for the GW-4 Wide Conversion Lens.
Additional information available at Ricoh Imaging.
---
Rioch GR III pre-orders: Adorama | B&H | WEX | Park Camera
Like the new Ricoh GR III Facebook page