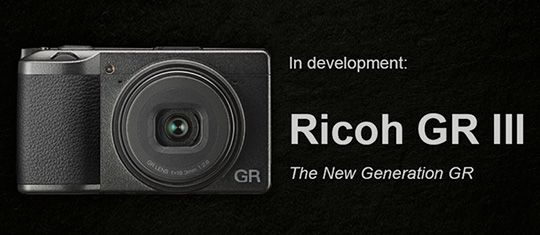 The Japanese website bcnretail.com published an interview with Ricoh executives on the new GR camera. Here is a recap
On why the new GR is so late
All main camera parts like a lens, a sensor, and an image processor changed into new models. It's the first time to do so, and that's why it took a long time. GR's discontinuation wasn't a matter of discussion. A new model comes out every two years until now, but it's not a decision. We needed to remake all major parts.
High megapixel counts aren't always good, but we adopted a 24.24-megapixel sensor for better image quality. To improve focus speed, we installed a hybrid AF system which uses both on-sensor phase detection and contrast detection mechanism. Previous GRs were slow to focus for sure. Sometimes they were lost in focus. You will find the hybrid system relieves your stress more. We had to deal with two side-effects which were the result of increasing megapixels. First, we designed a new processor which works smoothly even in large data processing. Second, we put in an image stabilization function because a high megapixel camera is prone to shaking. We changed a lens to shorten the minimum focus distance to 6cm rather than 10cm in previous models.
On why an image stabilization mechanism is put in
There is a certain number of people who claim the image stabilization function isn't necessary. But the image can be very sensitive to shaking with this high megapixel sensor. We reached to a conclusion that the image stabilization is necessary for you to experience better image quality. The SR mechanism which has been used in Pentax is available for us. It was very hard to put it inside GR's small body, but that technology was applied to a sensor dust-removal function which solved one of our long-standing problems. We are now tuning it up for additional effects.
On how the minimum focus distance is shortened
The GR's lens construction is 6 elements in 4 groups. We reduced 1 element and 1 group from the previous model, which makes the body lighter and focus speed faster. Thinner lens parts can retract the lens more. As a result, we shortened the minimum focus distance to 6cm.
It's very hard to design a high image quality camera with small and less lenses. A paper plan isn't enough even if it works fine. It's very hard to keep making a good performance camera in mass production. A tiny error can't be condoned for small lenses. That's why it takes the longest to make lenses in camera manufacturing.
On the highest ISO of the GRIII
We are going to adjust image quality from now. The highest ISO is to be decided according to the adjustment. Our aim is to increase it to more than the GRII's highest ISO 25600, but we aren't interested in jacking up only a number. It's useful if high image quality is maintained until around ISO 12800. We are now elaborating with that in mind.
On whether the GR is going to full frame
A full frame compact camera is possible, but it may not be the GR anymore. It could be under the name of another brand. If it's the GR, the sensor size could be smaller than APS-C. We might suggest it's not like only a larger sensor camera is good. There will be other options for full frame. We haven't yet decided what we do or don't do.
On where the GR is in the compact camera market
The GR isn't affected by the decline of the compact camera market. The high-end compact camera market is on the rise. Fujifilm released a camera like the GR, but its concept is different. We don't think the GR competes with it directly. The GR is a "plus" camera. It's like a DSLR user adds one 28mm lens. A smartphone photo is evolving rapidly, and you can take a good picture with your smartphone. But you can't enjoy the process of shooting with it. Only a camera makes you feel like seeing what you don't see usually.
Thanks Nakayamahanzaemon!