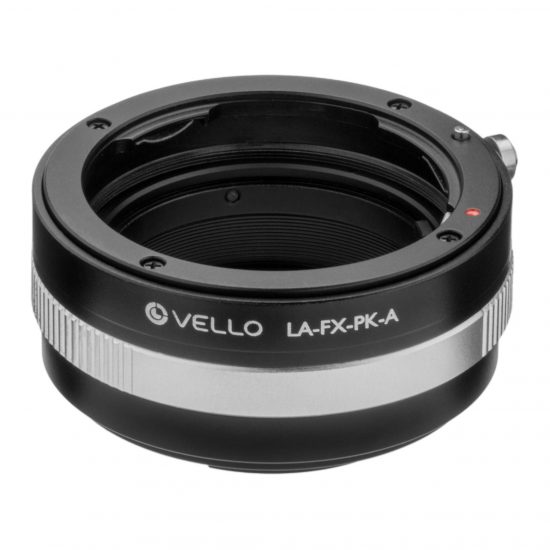 Vello recently announced a new LA-FX-PK-A lens adapter that will let you use Pentax K-mount lenses on Fujifilm X-mount cameras. Additional information after the break:
Product Highlights
Pentax K Lens to Fujifilm X Camera
Aperture Control Ring
Infinity Focus
Matte Black Interior
Zinc Alloy Construction
Weight: 3.8 oz / 108 g
Features
Mounting

This Vello Lens Mount Adapter allows Pentax K-mount lenses to be mounted on Fujifilm X-mount cameras. This makes it easy to enjoy Pentax K glass with your familiar Fujifilm X-mount camera without having to replace your old Pentax lenses. And this adapter offers precise and firm attachment without the wiggle and jiggle associated with other adapters.

Aperture Control Ring

A dedicated ring enables you to adjust your Pentax K-mount lens's aperture while it's attached to your Fujifilm X-mount camera. So even though the electronics from your Pentax lens won't function, you still have control over the exposure.

Infinity Focus Capability

A lens adapter can sometimes limit functionality. Vello Lens Mount Adapters are designed to retain infinity focus capability with correct flange distances. You can continue to operate with the full focus range of your lens when shooting landscapes or anything in the far distance.

Metal Construction

All-metal construction from zinc alloy ensures a solid and robust photography tool. You won't have to worry about cheap plastic flanges or soft brass, which can wear unexpectedly and leave you without an adapter.

Internal Matte Black Finish

The internal matte-black finish reduces glare and reflections of light coming through the lens. This way your pictures will be at the right exposure.
Via FujiAddict