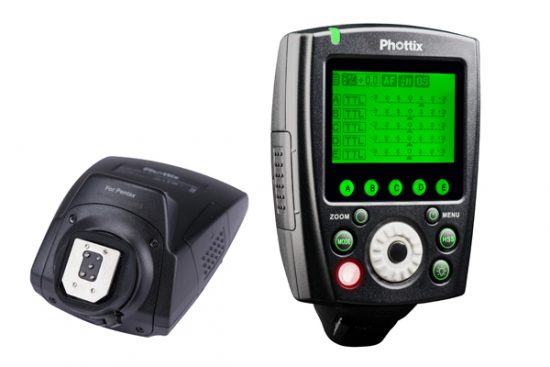 Phottix announces Odin II TTL trigger for Pentax cameras. Here are the details (US pricing not yet available):
Technical Specifications
Frequency: 2.4 GHz
Range: 328ft (100m)
Channels: 32
Groups: 5 (A/B/C/D/E)
High Speed Sync: Supported – up to 1/8000s on compatible cameras
Exposure Control System: TTL and manual (1/1-1/128,1/3 stop increment)
Digital ID: 0000-9999
Flash Ratio Control: 8:1-1:1-1:8
Flash Exposure Compensation: -3.0 to +3.0, 1/3 stop increment
Power Source: 2 x AA alkaline batteries or AA NI-MH batteries
AF Assist Light: Yes on compatible cameras
Second Curtain Sync: Yes
Firmware Upgradeable: Yes via USB
Compatible Cameras: K-1, K-5, K-7,645Z
Compatible Phottix Stobes: Indra 500 TTL*, Juno Flash
Compatible Phottix Receivers: Odin, Strato II, Atlas II and Ares I (Channels 1-4 Manual only)
Full press release:
Phottix announces Odin II TTL Trigger for Pentax
Las Vegas: Phottix's ­flagship Odin II TTL Flash Triggering system has a new addition, a transmitter, and control unit (TCU) for Pentax cameras.
Developed and tested in conjunction with Pentax engineers at Ricoh Imaging in Japan, the Odin II for Pentax bring the power and control of the award-winning Odin and Indra systems to Pentax users.
"The is another great addition to the Phottix line-up of lighting solutions," said Steve Peer, Phottix CEO. "It is a privilege to collaborate with a brand as prestigious and celebrated as Pentax. We look forward to offering Phottix lighting solutions to Pentax fans around the world."
"We are excited that the new Photix Odin II will provide enhanced functionality, such as High-Speed Sync, with our DSLR products. WPPI provides a great venue for the photo community to experience the compatibility between these two great systems," said Ken Curry, Senior National Sales Manager, Ricoh Imaging.
The Phottix Odin II features 5 groups with individual buttons and a control dial for quickly adjusting ­flash power levels. An AF Assist light improves focusing when used in low light environments. With 32 channels and a new Digital ID function, the Odin II offers photographers a way to personalize their products and prevent misfires from other nearby triggers.
The Phottix Odin II for Pentax is compatible with the Phottix ecosystem of ­flash triggers. Using specially designed firmware the Phottix Odin II for Pentax will control and trigger the Phottix Indra500 TTL Studio Light.
The Phottix Odin II for Pentax will ship to Phottix global partners in early March.