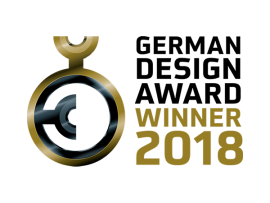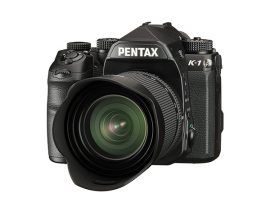 The Pentax K-1 DSLR camera won a 2018 German Design Award in the category "Entertainment":
PENTAX K-1 Digital SLR Camera Wins Winner in German Design Award 2018
Tokyo, October 23, 2017 – Ricoh today announced that the PENTAX K-1 interchangeable lens digital SLR camera, released in June 2016 and marketed by Ricoh Imaging Company Ltd., won a Winner in the German Design Award 2018 in the category "Entertainment".
The PENTAX K-1 digital SLR camera is developed as the flagship model of the acclaimed PENTAX K series of digital SLR cameras. This model features a large CMOS image sensor, equal in size to the full image area of 35mm film, to deliver super-high-resolution images required for the artistic work of photo enthusiasts and professionals.
While reflecting the preciseness and rigidity of traditional cameras, a radical redesign was made. The penta-prism housing, traditional symbol of SLR cameras, has been reshaped and modernized with a cylindrical surface basis. The grip portion was evaluated using several mock-ups to fit various hands, thereby achieving an exquisitely comfortable hold. Also a new function dial is added to allow quick and direct function selection and data entry.
About the German Design Award
The German Design Award is a prestigious international design award established on the initiative of the German Bundestag (the lower house of German parliament) as a foundation in 1953.
Among products with outstanding designs around the world, those recommended by the German Design Council are nominated for the award, which is structured in four tiers: firstly, Gold; secondly, Winner; thirdly, Special Mention and fourthly, Nominee. Gold, Winner, and Special Mention are prizes awarded to superior designs among the nominees.