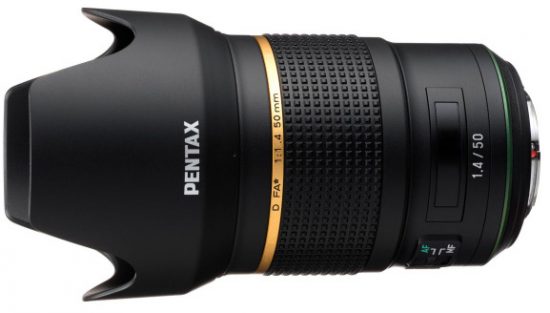 Ricoh announced a new Pentax D FA 50mm f/1.4 lens under development:
RICOH to Exhibit One Reference Product at CP+ 2017 Camera and Imaging Show

TOKYO, February 22, 2017 -RICOH COMPANY, LTD and RICOH IMAGING COMPANY, LTD. is pleased to inform the exhibition of one reference product — interchangeable lens currently under development — at CP + 2017 , one of the largest and most comprehensive camera and imaging show in Asia. This annual event will be held from February 23rd to February 26th at the PACIFICO YOKOHAMA convention center in Japan.

Reference of Products

Interchangeable lens for PENTAX K mount digital cameras
Model name: D FA★50mmF1.4(tentative)

Product information:
・An image circle accommodating the image size of 35mm full-frame digital cameras
・High-performance Star (★)-series lens with high-resolution , high-contrast images and beautiful bokeh (defocus) effect
・Price: Not decided
・Market launch: Not decided

Notes:
Model name, design, specification are all tentative and subject to change without notice. Price and marketing launch date will be announced at later date.
Source: Ricoh