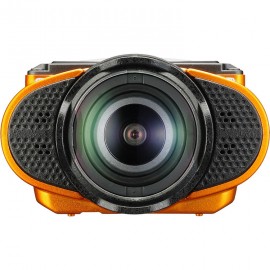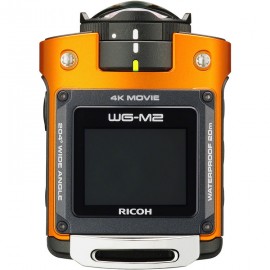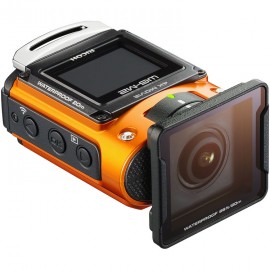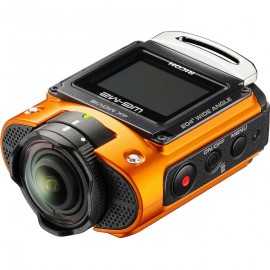 The previously rumored Ricoh WG-M2 action camera with 4k video is now officially announced. The price is $299,95 (available also in silver). The main features are:
Ultra-wide angle 204°lens
Waterproof up to 20 meters (no housing required)
Shock-resistant up to 2 meters (6.5′)
Cold-proof down to 14° Fahrenheit
Waterproof down to 65′
7 selectable video effect modes
Built-in Wi-Fi
UHD 4K Video at 30 fps (100 Mbps)
1080p at 60 fps / 720p at 120 fps
8MP Photos in Bursts up to 8 fps
1.5″ LCD
Additional video Features:
Video Capture Orientation Correction – adjust image orientation in relation to camera position to maintain a level horizon without having to rotate the image in post. Select from 0, 90, 180, and 270° body orientations
7 Selectable video effect modes (Bright, Natural, Monochrome, Shading, Bleach Bypass, Bold Monochrome, High Contrast)
Time-Lapse Movie mode for 30x, 60x, and 150x speed movies
Extended Move Recording – records movie every 5/10/25 minutes as one file endlessly until recording is turned off manually (old file is deleted when memory is full)
High Speed Movie (Fixed to Wide) – Shoots 720p video at 120 fps, but plays back in 30 fps for slow-motion (4 minutes recording limit)
Vibration Assist function to confirm record start/stop
Press release:
DENVER, Feb. 22, 2016 /PRNewswire/ — Ricoh Imaging Americas Corporation today announced the Ricoh WG-M2, a compact, shockproof and fully waterproof action camera with an ultra-wide 204-degree lens that captures stunningly sharp 4K Ultra-HD video. Approximately 40 percent smaller and more lightweight than previous models in Ricoh's acclaimed WG series, the new WG-M2 allows you to capture a bigger world of adventure, whether diving the depths of the ocean, carving up the slopes, forging a trail through the wilderness, or enjoying an afternoon at a playground with the family.

The Ricoh WG-M2 boasts additional new features designed to ensure outstanding performance in extreme conditions, as well as to make the camera easier to use. In addition to being waterproof to an impressive depth of 65 feet, shock-resistant against a fall from 6.5 feet, and able to operate in temperatures as low as -10°C, the new WG-M2 now offers video-orientation, a new feature that ensures video is recorded upright if the camera is mounted sideways or even upside down. For remote control and image/video transfer, the WG-M2 is controllable via Wi-Fi with a smartphone or tablet using the free Ricoh ImageSync app.

"This camera is simply best in class, both in terms of image quality and ease of use," said Jim Malcolm, president, Ricoh Imaging Americas Corporation. "The WG-M2 is one of the smallest and lightest cameras in the market. It's more than an action camera.  The WG-M2 is compact and durable; with a large color LCD to frame and enjoy top-quality images and 4K Ultra-HD video.  It also comes with a host of features that make the camera extremely easy to use, which is critical when you're capturing life."

The WG-M2 is equipped with large control buttons that make it easy and intuitive to operate. A new start-stop control mechanism vibrates to confirm when recording is started or stopped, ensuring that important moments are never missed, and a large, 1.5-inch color LCD monitor makes it possible to view the action during recording or to playback video on the go.

The WG-M2's 4K sensor captures gorgeous, 4K Ultra-HD video at 30fps, as well as full 1080p HD up to 60fps and 720p HD video up to 120fps, as well as capturing still images up to 8MP. The camera is equipped with seven Video Effect modes that add distinctive visual effects, plus an array of simple video-editing functions that make it easy to edit videos in-camera.

Ricoh offers a wide array of mounts and other accessories that allow the camera to be readily mounted on helmets, handlebars and more for use during sports and outdoor activities. Included in the accessory offerings are a brand new case O-CC163 and silicone protective skin O-CC1631, specifically designed for the WG-M2.

Pricing and Availability

The Ricoh WG-M2 camera will be available late April 2016 at www.ricohimaging.com and retail outlets nationwide for a manufacturer's suggested retail price of $299.95.
Additional information on the WG-M2 is available here.