Two new Ricoh patent applications were filed in Japan:


The first Ricoh patent is to improve live view image quality and reduce flickering.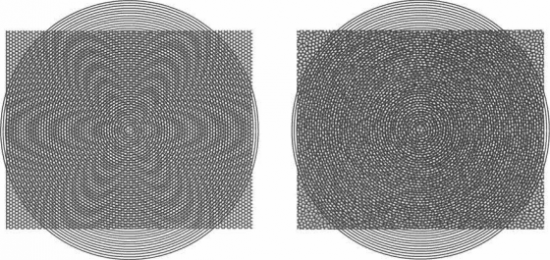 The second patent is for a random pattern focusing screen  – on the left you can see a schematic diagram showing moire on a general focusing screen, on the right you see a focusing screen example based on the new patent – there is no moire. Here is the translated description of the patent:
Focusing screen of a single-lens reflex are often those who have a regular uneven, moire and diffraction or the like occurs, it gives the viewfinder image with a sense of discomfort to the user. So it can also be regarded as the focus by the occurrence of moire, personally to moire of OVF image has been helped. However, depending on the frequency of the subject because there is also a possibility that even if moire occurs not Jasupin, would not be better to not. By the way it will be used peaking in EVF is good, but it also may be displayed when not Jasupin, require extra attention, because would not be mistaken as Jasupin to the photographer.

Ricoh patent applications are focusing screen utilizing the randomness obtained by chemically or physically alter the material.